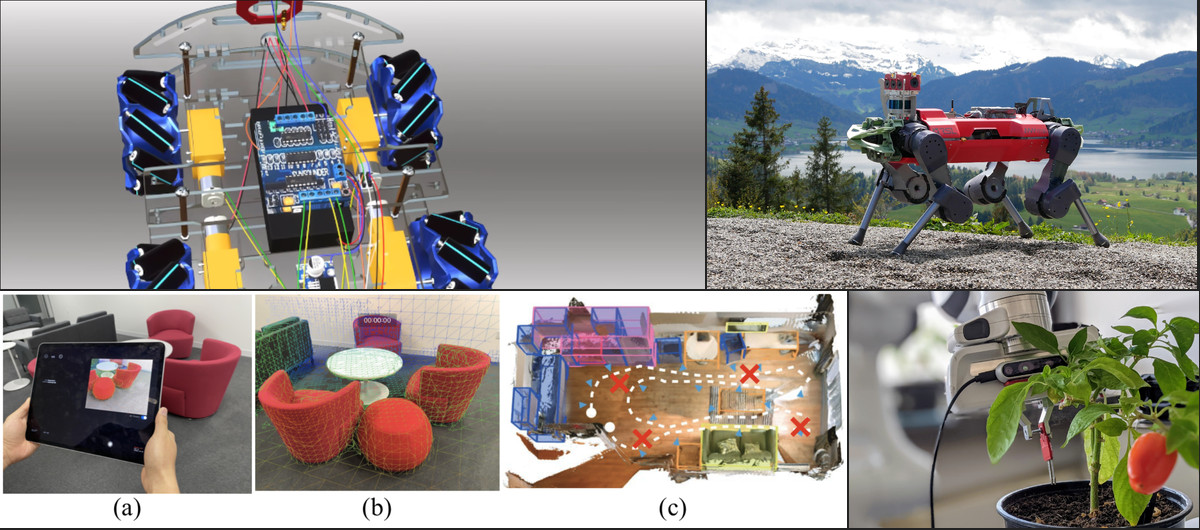 Last week I've published the Q4 report to our patreon supporters. We've finished the year with 37.3% growth of e-mail subscribers and I've spent a staggering 1.5 man-months working on the newsletter in 2021! Looking forward to seeing where we will get this year. As usual, the publication of the week section is manned by Rodrigo. The most clicked link last week was the open-source book: Introduction to Autonomous Robots with 15.6% opens.
Sponsored
Weekly Robotics is being developed thanks to the Patreon supporters and the following business sponsors:
---
OpenMANIPULATOR: Pick-and-Place with the user-friendly open source robotic arms!
robotis.com
The OpenMANIPULATOR is ROBOTIS' one of the best-selling platforms for education and research. It comes in two different sizes; the small OpenManipulator-X can be mounted on the TurtleBot3, and the big OpenManipulator-P is a human-sized arm which can lift up to a 3kg object. There are many cool videos on YouTube. Come check out!
Guitar Bot
Last week I've posted this guitar-playing robot by the Researchers from the Georgia Institute of Technology on LinkedIn where it made quite a bit of noise. I found myself coming back to this multiple times since I've found it and I'm not sure if it's due to the automation side of it, satisfying montage or the music itself. Wicked!
---
ARKitScenes
Apple Researchers have published an impressive dataset with annotated RGB-D indoor scenes. The datasets were captured using iPad Pro with LiDAR. The dataset also contains ground truth information captured using a Faro Focus S70 laser scanner. The dataset includes data captured in three locations and boasts 5,047 captures and 1661 unique scenes. For the short write up about the paper check out this article in Marktechpost. The dataset was released under the Creative Commons Attribution-NonCommercial-ShareAlike 4.0 licence. You will find the paper describing ARKitScenes on OpenReview.
---
Legged Robots Learn to Hike Harsh Terrain
ETH Zurich RSL Researchers continue working on features that would allow ANYmal quadruped to traverse various kinds of environments. In this research, the robot also completed a 1 hour hike, which is great, because the last time we reported ANYmal going hiking it required a fair bit of help.
---
All About Mecanum
The video featured in this article is great for building intuition on how mecanum wheels work.
---
LG Sunsetting SVL Simulator
LG is suspending the active development of its self-driving car simulator SVL. According to the notice in the readme, the existing repositories will remain open but won't be maintained by anyone from LG. If someone had actively used the simulator they might be heavily disappointed as the notice says that the latest release requires the use of WISE (web user interface) cloud service that won't be made open source. At this time there are no plans to change the Software Licence Agreement that states: "You may not: (a) reverse engineer, decompile or disassemble the executable or binary builds of Licensed Material, or otherwise attempt to defeat, avoid, by-pass, remove, deactivate or otherwise circumvent any software protection mechanisms in or included with the binary builds". I'm not a lawyer but to me, this sounds like removing the WISE access could be against the licence.
---
OceanWATERS
"OceanWATERS is a physical and visual simulation of a lander on Europa. It is intended as a testbed to aid in producing software that could fly on lander missions to ocean worlds, such as Europa and Enceladus". The repository contains both Gazebo and ROS packages (default build instructions are for Melodic). I have to say that the lander simulation looks quite interesting!
---
Felony Charges Are 1st in a Fatal Crash Involving Autopilot
In 2019 a Tesla car, allegedly running on autopilot, ran a red light, crashing into another car and killing two people. The case is currently pending with the driver pledging not being guilty.
---
Publication of the Week - Robotic Irrigation Water Management: Estimating Soil Moisture Content by Feel and Appearance (2022)
Some fields in agriculture make use of the "feel and appearance method" to determine when to and how much water is needed for irrigation. This paper presents a system for automating this task using a robot arm equipped with an RGB-D camera Intel RealSense D435 and a soil moisture sensor. The method identifies the soil surface using the camera and moves the robot arm to insert the sensor within a sensitive zone that is close to the root without harming it. During the movement, a force sensor is used to get the stiffness of the soil and detect possible collisions.
---
Business
Intuitive Surgical Announces Q4 Financial Earnings
Intuitive Surgical (NASDAQ: ISRG), a company behind da Vinci surgical robots had announced Q4 2021 earnings, showing a net income of $381 million. A number of procedures done by these robots increased 19% compared to the same period last year and the company had shipped 385 systems that quarter.
---
Addverb Technologies Brings in $132 Million Investment
Reliance Retail Ventures had acquired a 54% stake in Addverb Technologies, a company producing automation solutions for fulfilment centres.