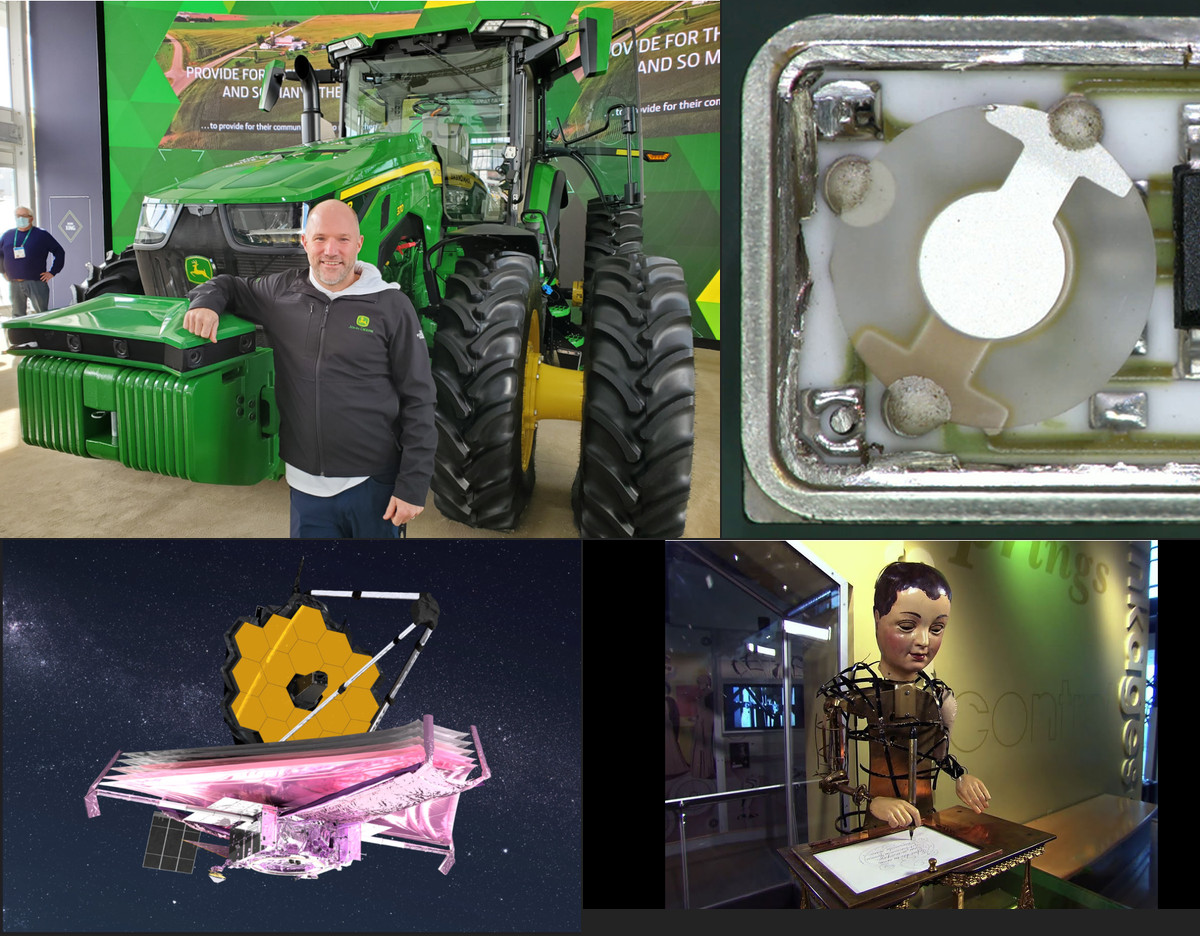 As usual, the publication of the week section is manned by Rodrigo. The most clicked link last week was the article on cuspidal robots with 7.4% opens.
Sponsored
Weekly Robotics is being developed thanks to the Patreon supporters and the following business sponsors:
---
Alarm.com is hiring
alarm.com/careers
Alarm.com is the leading developer of intelligent platforms for connected home and businesses. We are looking for a Lead Embedded Software Engineer to guide our robotics development on our custom home autonomy platforms and a Senior Robotics Scientist with a background in Autonomy as we continue to innovate in the robotics space. We're all in on collaboration, no matter where you are. Relocation assistance and/or flexible work-from-home remote options may be available.
Robotics at CES
CES had wrapped up last Saturday and so far the best coverage about it I was able to find are the Twitter posts by Melonee Wise. One product that made quite a bit of news is the John Deere 8R autonomous tractors that utilize six pairs of stereo cameras for autonomous operation.
The automatic operations on the fields in tractors have been available for years now with lots of companies providing 'autosteer' that allowed the tractors to stay in lane, often using precise RTK systems. I'll be looking forward to seeing how 8R will work and if farmers will truly be allowed to step away from the tractors to focus on other tasks.
---
A bullet list of space news
There have been some space-related developments lately, that I thought would make a nice bullet list:
Astrobee robots in 360° - recently shared a video by ESA showing Astrobee used for research on microgravity motion planning and control for on-orbit assembly and coordinated motion
---
Predictions Scorecard, 2022 January 01
Every year, Rodney Brooks reviews his predictions from 2018 to see how his initial predictions are doing. I highly recommend reading the full blog post as it has some very interesting insights on the current state of AI, autonomous cars, robotics and space tourism.
---
Ancient dreams of intelligent machines: 3,000 years of robots
A very good write up from Nature about automata's sent me to this recreation of digesting duck from the 1700s, followed by this automata capable of drawing and writing predefined pictures/text.
---
Defibrillator drone delivery helps save a life in Sweden
"For the first time in medical history, a drone has played a crucial part in saving a life during a sudden cardiac arrest. The world-unique achievement took place in Trollhättan, Sweden in December of 2021, when an Everdrone autonomous drone delivered a defibrillator that helped save the life of a 71-year-old man."
---
Quadrupedalism
In a recent tweet, Robin Fröjd had announced a public community for people interested in quadruped robotics. If you happen to be making quadrupeds you might like it there!
---
Fixing a Tiny Corner of the Supply Chain
Many companies are struggling these days with supply chain issues. In this blog post you can learn about one issue with a certain MEMS oscillator and the author's struggle to find a solution for an approaching factory run.
---
Publication of the Week - Underwater Object Classification and Detection: first results and open challenges (2022)
Even though we've mapped the entire ocean floor to a resolution of 5 kilometres (3 miles), we still have over 80% of the ocean that is completely unexplored. Most underwater robots used for exploration mainly depend on vision for perceiving the surroundings in this challenging environment. This paper presents a comparison between five CNNs (Convolutional Neural Networks) architectures for object detection under blurry and colour-faded conditions. The results are pretty astonishing for some classes of fish, but still, need improvements to be considered generalized.
---
Business
China unveils 5-year plan for robotics, smart manufacturing amid global race
China has come up with a 5-year plan to boost smart manufacturing, planning to work on artificial intelligence, 5G, big data and edge computing. According to the plan, China will build three to five robotic industry zones, doubling the intensity of robotics manufacturing and yearly revenue of the sector exceeding 20%. If you would like to explore this topic the article How realistic is China's five-year plan for robotics published by The Robot Report might be interesting for you.
---
Bossa Nova de-emphasizes robots in 'retail AI' rebrand
Bossa Nova, once a developer of shelf stock control robots, that was initially used by Walmart, untill they found out that "found different, sometimes simpler solutions that proved just as useful".
---
ABB creates joint venture with China's largest automotive parts supplier
"Industrial automation company ABB and China's leading automotive parts supplier, HASCO, have agreed to create a joint venture to drive the next generation of smart manufacturing in China's automotive industry".