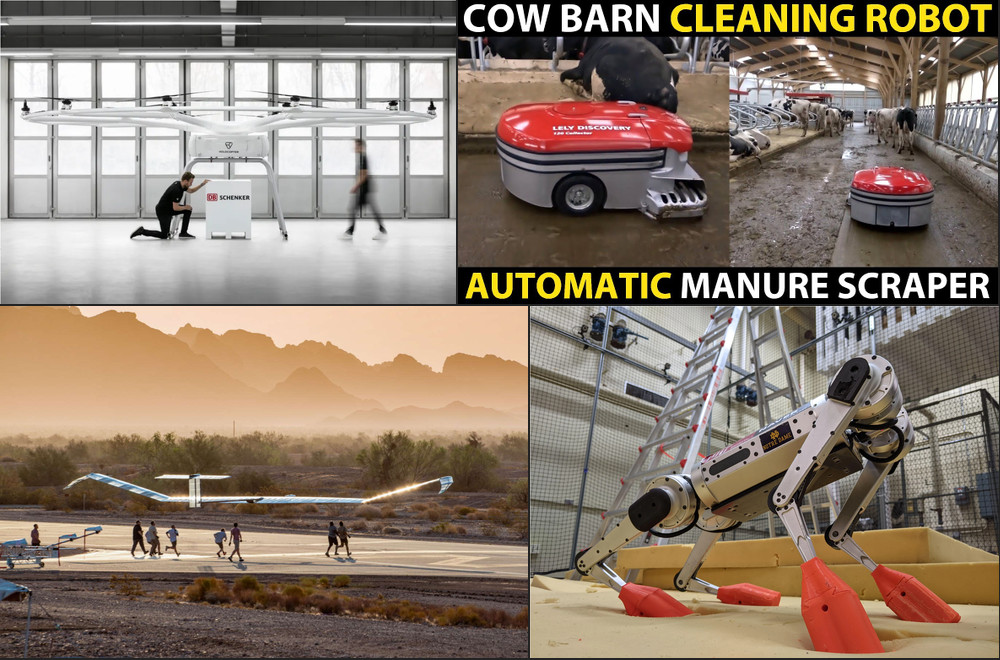 As usual, the publication of the week section is manned by Rodrigo. The most clicked link last week was the video of boring machines with 16.8% opens.
Boots Full of Nickels Help Mini Cheetah Land on its Feet
Last week Rodrigo covered a paper "Real-time Optimal Landing Control of the MIT Mini Cheetah" by MIT Researchers. The above feature shows the work from the University of Notre Dame, where Researchers, started looking into aiding mid-air reorientation by equipping the robot with weighted boots, each adding 500g of weight to each foot. You can find the paper with this work on arXiv.
---
Practice Problems for Hardware Engineers
"This book is to help undergraduate and graduate students of electrical and computer engineering disciplines with their job interviews. It may also be used as a practice resource while taking courses in VLSI, logic and computer architecture design. The first edition consists of more than 150 problems and their solutions which the author has used in his VLSI, logic, and architectures courses while teaching at USC".
---
Swarm
We rarely feature computer games here, but this one really did catch my attention. Swarm is a 2D terminal game, where you build and program your robots to explore the world and collect resources. If you want to give it a go, then you should probably start with the tutorial. If the issue next week is delivered late, then you can blame it on Brent Yorgey.
---
Event-Based Camera Chips Are Here, What's Next?
If you've been reading this newsletter for some time, you might have noticed that I'm quite excited about research using event cameras. In this interview with Luca Verre, the CEO of Prophesee, you can learn more about the challenges in designing these cameras, and how Prophesee was working with Sony on their event-based camera chips that became recently available.
---
Airbus Zephyr Solar High Altitude Platform System (HAPS) reaches new heights in its successful 2021 summer test flights
Do you know when was the last time I've covered Zephyr? It was in the first issue of the newsletter. I'm glad the project is still being worked on. Recently, the platform performed 36 days of stratospheric flights across two flights and set a new altitude record at 76,100 ft (23.2 km).
---
VoloDrone first public flight with logistics integration with DB Schenker
Last week, Volocopter demoed their octodecrotor(?) heavy-lift multirotor. According to the product page, this thing can take up to 200kg payload with a range of up to 40 km. If you end up watching the video, pay attention to how the rotors are spun before takeoff. I wonder if the in-order spin up is one of the pre-flight checks.
---
Publication of the Week - Drone technology: interdisciplinary systematic assessment of knowledge gaps and potential solutions (2021)
Drones technology raised a lot of attention in the last decade, despite that, it's still rare to see them providing some sort of delivery, inspection, or other services in our everyday life. This paper presents a drone Technology Assessment (TA) to better understand current research scenarios and improvements areas. The authors did an evaluation of over 2500 relevant quotations and "only 4.7% of the proposed solutions target safety that is highlighted as a problem by 22% of the papers". This means that even with a massive research power, we still need to improve in certain fields that could lead to advancements in deploying more service drones.
---
Announcements
Join the Women in Robotics Photo Challenge
Women in Robotics are organizing a photo challenge looking for photos of women, non-binary and underrepresented people engaging in actively building and programming robots. The linked page will have all the details about the submission process. While we are on the topic, the same organization had recently published a list of 50 women in robotics you need to know about in 2021.
---
Robots Work
Cow dung Cleaning Robot | Cow Shed Cleaner Machine | Dairy Far | Manure Scraper
Here is a robot doing work that most likely not very many people are eager to do. I found it interesting how the cows don't seem to mind the robot at all.