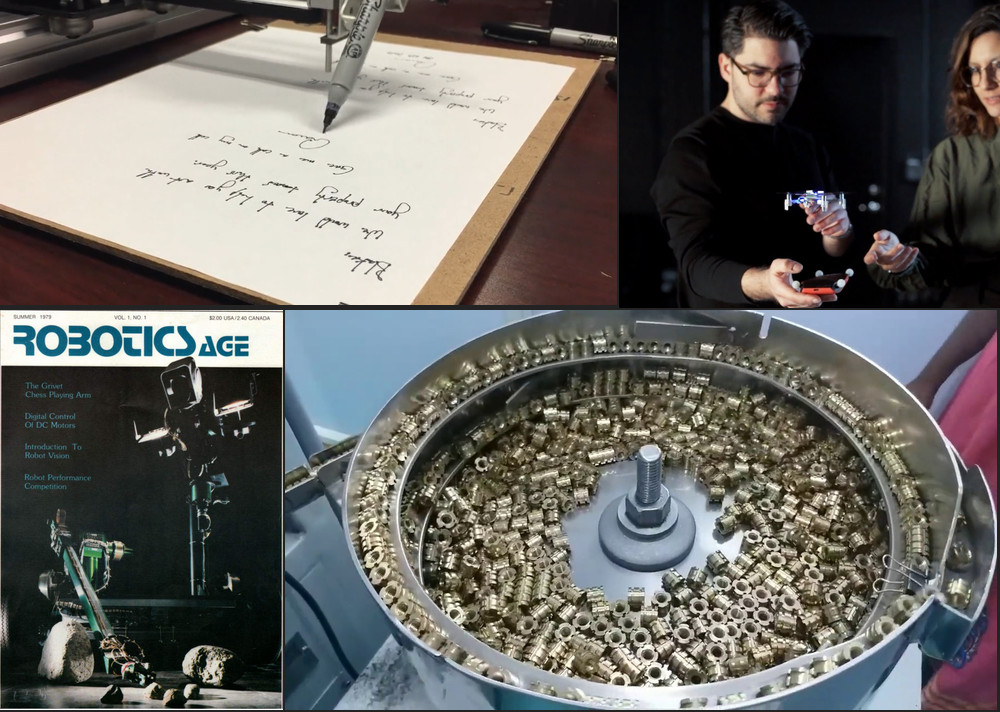 Recently, I've started re-reading some of the works of Stanislaw Lem, a famous Polish Science-Fiction author. I seem to find lots of inspiration in most of his stories. One example off the top of my head is that finding advanced life in space is pretty easy - as technology develops, worlds run out of space to store their trash, offloading it all to dedicated orbits. The issue is, the advanced AI on the computers is not so fond of this, so it starts producing electromagnetic noise in revenge, creating issues for the planet's inhabitants and explaining radio emissions we can capture on Earth. As usual, the publication of the week section is manned by Rodrigo. The most clicked link last week was the sponsored Humble Bundle (thanks everyone!) followed by the Ultimate Weed Killing Robot by Dave's Armoury.
---
Sponsored
Ariel & Friends in The Magic of Mangroves!
Kickstarter
Our friends at WeRobotics kicked off a campaign for their educational book on using drones for conservation works in Panama. Even though the funding goal was met in 24 hours since the start of the campaing, you can still support the idea and get a copy of the book. Personal note from Mat: I love everything about this project; first of all it highlights a project of using robots for environmental conservation, secondly it promotes robotics among younger audience, and finally I really like the style of the first book in this series.
---
Robotics Age at Internet Archive
The other day I came across this collection of digitized Robotics Age magazine. I've only skim read through the first issue but I'm already impressed with it. I like that the articles are going into so much detail (how would you approach edge detection 30 years ago?) and at the same time are very easy to follow. What I think was an interesting find is that in 1979 there already was a Turtle robot by William D. Hillis that you could buy for $300 ($1110 in today's money).
---
Tartan SLAM Series Fall Edition
After a tremendous response to our first SLAM series, we are glad to announce the Fall Edition of the Tartan SLAM Series organized by the AirLab and the Robot Perception Lab in the CMU Robotics Institute. This series aims to expand the understanding of those both new and experienced with SLAM while fostering fun, provocative discussions on robotics. We have a fantastic lineup of speakers from world-renowned universities and organizations to touch upon a diverse set of backdrops such as search & rescue, space rovers, underwater vehicles, agricultural robotics, and many more. If you would like to be a part of this exciting event, please join our mailing list.
---
Twitter thread on 8-foot long handwriting robots
A very interesting Twitter thread by Aaron Francis about the most fun project he has worked on - robots that can 'hand-write' labels (with some variations to the lettering!). Very nice write-up and execution!
---
Building Interactions with the Bitcraze Crazyflie and Motion Capture
How would you go about integration a mocap system with a Crazyflie? This short tutorial and the referenced repo can be a good start.
---
Successful Hardware Crowdfunding: Behind the Scenes
With many hardware related crowdfunding announced in the last couple of days, it's worth taking a look at what can go into a successful hardware campaign, even if the product is much simpler than what you would see in a robotics-related project this blog post gives you a good idea how hard it is.
---
Publication of the Week - GPS-Denied Navigation Using Low-Cost Inertial Sensors and Recurrent Neural Networks (2021)
In today's paper presented at the PX4 Developer Summit 2021, we discuss a method that estimates a drone's position and velocity with a high degree of precision whenever GPS signal is lost. The solution uses a Recurrent Neural Network (RNN) and takes measurements from the IMU, Barometer, and Magnetometer as its inputs to learn each of the sensors' error models. The results of the state estimation worked better with paths that were in auto mode than manual mode due to the pilot's aggressive behavior when compared to the smoothness of the auto mode. This work can also be extended to outdoor mobile robots in dense urban environments that may inhibit GPS signals.
---
Announcements
Sensitive and Robust Tactile Pressure Sensors for Robotic Grippers
From Edward on the Weekly Robotics Slack channel: "The first time I saw Lenore's team present about this strange new material, I was thoroughly impressed, it's so cool. I promise you'll like it. It is electrically sensitive to pressure, but the properties work two ways, so you can also stimulate it with electrical voltage to cause it to actuate. A soft material that doubles as a pressure sensor for grippers, or as an actuator for sensitive applications. The IEEE-RAS Boston (Robotics and Automation), Women in Engineering, and Sensors Society are three-way hosting a presentation from RasLabs, Thurs Sept 23 at 5pm EST at MassRobotics or online via Zoom".
---
Robots Work
Insert High Speed Inspection Sorting System
An interesting machine from Vision Embesoft. The implementation is interesting in that the inserts always arrive at the photographing station in an upright position.