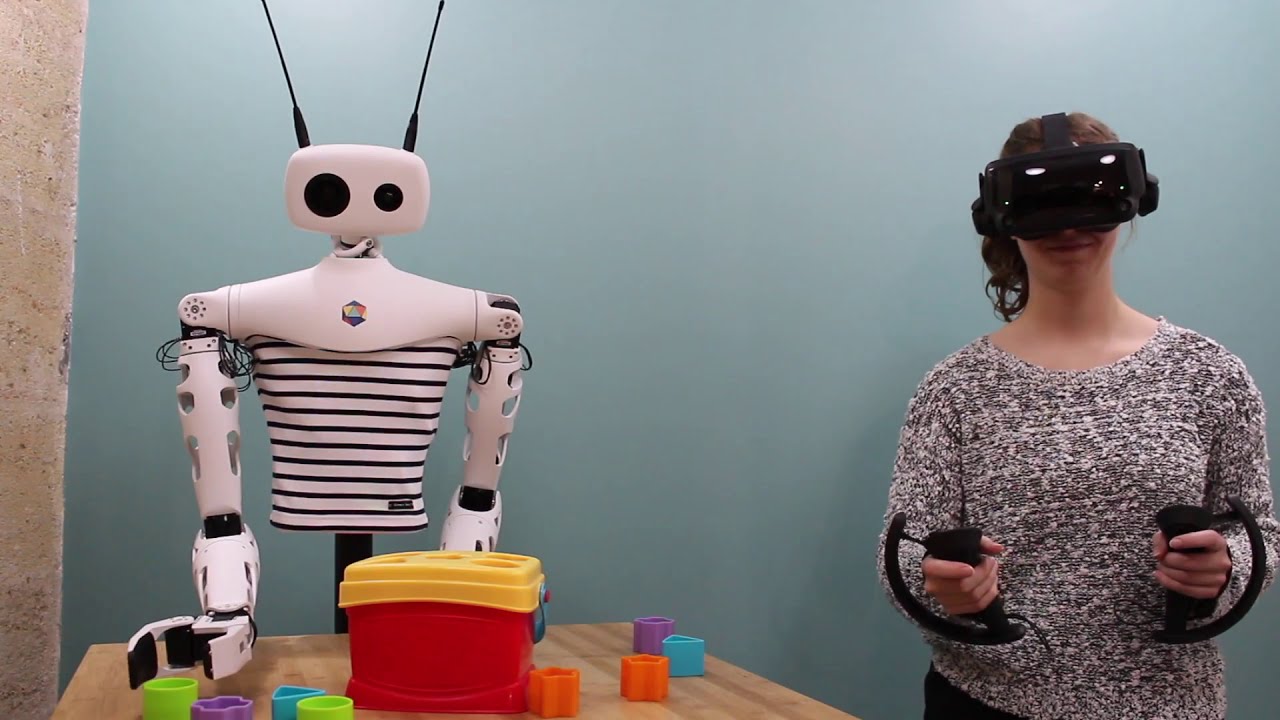 Image Credit: Pollen Robotics
The most clicked link last week was IEEE article on how Boston Dynamics taught its robots to dance with 16.8% opens. You seem to enjoy this topic, so this week you can get even more in-depth look into the process of choreographing BD robots!
CES 2021 Is All About the Robots
A short article by Lance Ulanoff, showing some of the robots presented at CES. Big thanks Artur for the tip! One other project that caught my attention when going through CES 2021 was the Reachy VR teleoperation.
---
Any Box From Any Height
These clever robots by Bionic Hive, that can change from being ground robots to being able to attach themselves to the rack and move vertically and horizontally, have been doing rounds around Twitter. This video is a slightly longer presentation of the SqUID capabilities.
---
Robots Made of Ice Could Build and Repair Themselves on Other Planets
These robots look like something straight out of Seveneves. In this research, the whole robot was constructed by the Researchers but the hope is that at one point these robots will be able to handle all the ice processing themselves.
---
How Boston Dynamics' Spot Robot Learns to Dance!
YouTube (Adam Savage's Tested)
If you still don't have enough of the dancing video in this episode of Tested Adam Savage and Norman Chan are looking at the Choreographer's software that Boston Dynamics used to script the movements of the robots.
---
Nasa's Curiosity rover: 3,000 days on Mars
A fascinating album of pictures showing 3000 Sols on Mars through the lenses of Curiosity (and the Mars Reconnaissance Orbiter?). I love the quality of some of these pictures!
---
Publication of the Week - SwarmRail: A Novel Overhead Robot System for Indoor Transport and Mobile Manipulation (2020) (PDF)
Rodrigo: Warehouses and manufacturers have been using robots to get more efficiency and speed in their lines. This paper proposes a new concept using omnidirectional robots in overhead L-shaped rails. This architecture frees the ground space that can be used for other purposes. Each mobile robot can carry a transport box, tools, and even a manipulator, allowing the system to be highly flexible, dynamic, and modular. This could be a good solution for factories that need constant changes on their plant floor.
---
Weekly Robotics 2 Years Ago
The highlights on what we were looking at 2 years ago are:
Autonomous Driving Cookbook by Microsoft - sadly, the book is still in preview, more than 3 years after the initial commit, and more than 2 years since the most recent one. Bill Gates meets robots at Harvard University Lab. NASA's plan for an asteroid redirection test - to be launched in July this year! The latest article about the mission I found on NASA is here
---
Careers
Mo-Sys Engineering Ltd (London, UK) - C++ Developer - Computer Vision.
Mo-Sys is an innovative designer and manufacturer of advanced camera robotics and virtual technologies for the high end film and broadcast industry. The Mo-Sys product range spans remote heads & motion control, broadcast robotics, mechanical and optical camera tracking for AR and VR, and on-set visualization.